Your backyard might be really spacious, but with the right amount of changes, it can easily be the prettiest feature of your home. It is how they say it these days. If it is not worthy of a picture, it is not worthy at all.
While a gardener can make the job super easy for you, the expense of hiring one is a real stress. That is when the green thumb of your family can come in hand. There are multiple ways to transform your backyard into a super vibrant outdoor area. The article below walks you through an easy guide to start your backyard transformation journey.
1. Refurnish all the old seats and benches
Even if your garden has the most beautiful plants and flowers grown, old, weary, and broken benches can completely set the whole look off. You can either repaint the benches to old vintage colors or bright ones, depending on your preference. If not in their optimal condition, you can always toss them away for new ones.
2. Swap the dying grass
If the plants are all grown beautifully, but the grass is all dry and gone, the whole look can be a disappointment to look at. You can swap the grass with either outdoor flooring or lay fresh grass seeds after clearing the whole area.
3. Build a patio
If you have enough backyard space, you can build a DIY patio, depending on the availability of the area. You can add all sorts of artificial decorations or even mini cacti along the edge to bring the whole vibe out of it.  You can accommodate extra chairs or sofas from the house of the patio. Depending on your budget, you can decide whether to go for a wooden or a concrete one.
4. Lay down stone paths on areas lacking grass
If there are areas where there is no grass but only soil present, you can lay down a path using flat stones or roughly cut tile pieces that give the effect of stones. The path can be helpful to walk on directly from the house to the pool or any playhouse if present.
5. Construct a tree house or tree bench for your kids
If you have a giant tree standing tall in your backyard, use it to create a cool treehouse for your kids. You can even lay benches along the circular trunk to sit on during a hot sunny day. Nothing can beat the cool shade a tree gives in summers.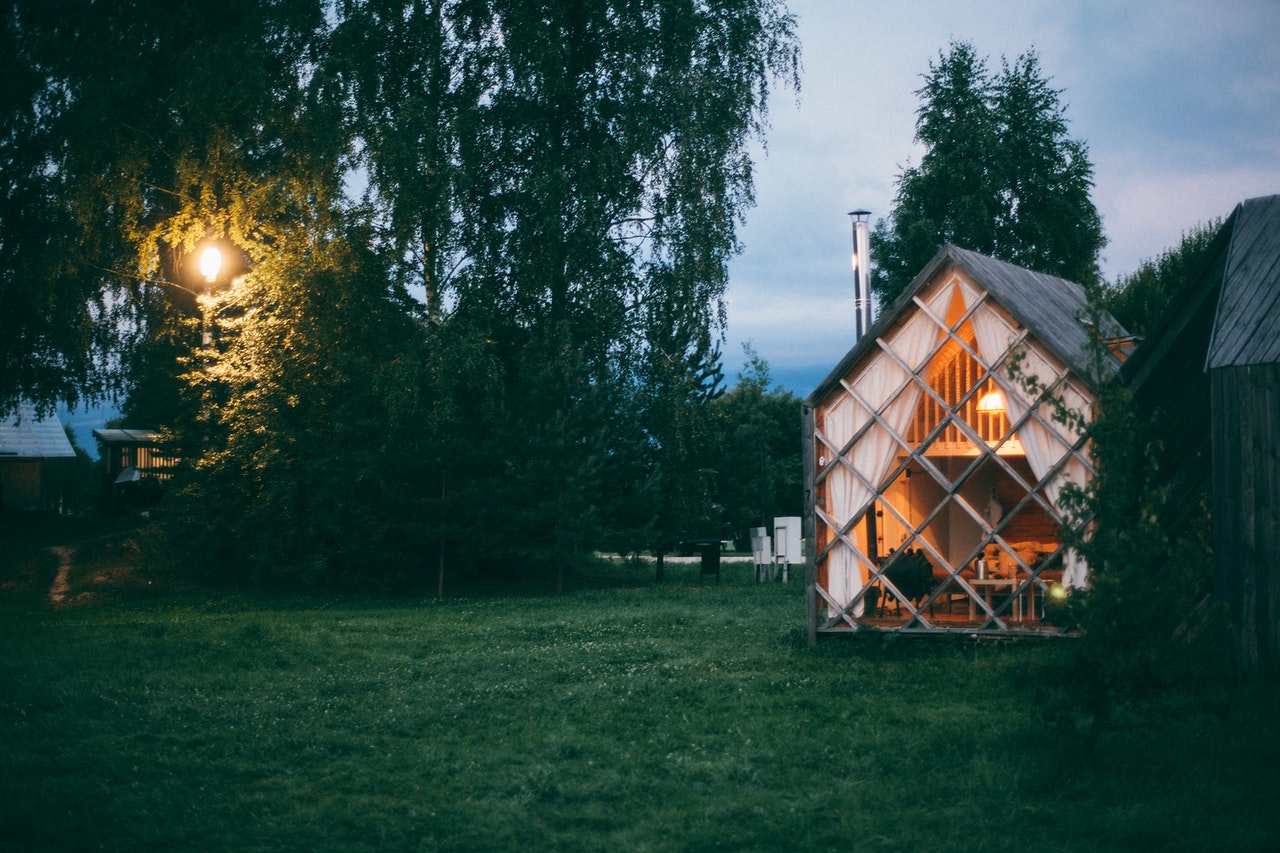 6. Paint your fences
Who would want the whole garden to be vibrant in colors, and the fence is all sad and dull. Go wild and paint the fence with cool pastel colors or paint a mural on it. The more crafty and colorful your fence is from inside and outside, the more your guests will be interested in your transformation.
7. Add lights to your shaded areas
As much as you love to have a walk in the daytime, there is never an exception to not visit it at nighttime. Add a touch of golden fairy lights in your patio and even the treehouse and around the tree benches too. The lights will be a perfect complement to all those night parties you will be hosting.
8.Revamp your old shed
If you have an old rusty shed in your backyard, put it to your maximum use. Though it is just a roofed structure meant to store your gardening tools or as a workshop, you can completely transform it into a useful storage shed that feels like another mini part of your home. You can install shelves to place all your tools on, paint them, and install seats. Fix all the problems if it has any, like leaky roofs, wood rot, etc.
9. Use walls if you have a smaller garden area
If your backyard lacks the space to build a patio or plant big pots, use your walls or fences to their maximum use and build yourself a vertical garden. You can even install vines along the edge of the fence. Vertical plantation will save you a lot of space, and you will face no area constraints.
With these in mind, you can understand the need to transform your garden into a valuable extension of your home. Just some basic tools and a few helping hands are all you will need, and you can give it a whole new look from what it currently looks. However, make sure to implement all these pointers to maximize what your outdoor area can give you.