A clean home is a happy home. Really—having a dirty, cluttered home can take its toll on your physical and mental health. But who has the time to clean everything all the time? Between work, family, and social obligations, it can be hard to find the time to keep your home as clean as you'd like.
Thankfully, there are some easy ways to keep your home clean- even if you don't have a lot of time. Here are some of the top tips for keeping your home clean with minimal effort. Keep reading to learn more!
Start with the basics.
When you're short on time, it's important to focus on the basics. That means vacuuming, dusting, and mopping. There are tools to make these easier too, like robot vacuums and robot mops! Once you've tackled those chores, you can move on to other things – like cleaning the windows or dusting off the shelves. These are easier with tools like window wipers and vacuums with brush attachments.
Invest in some good quality cleaning products.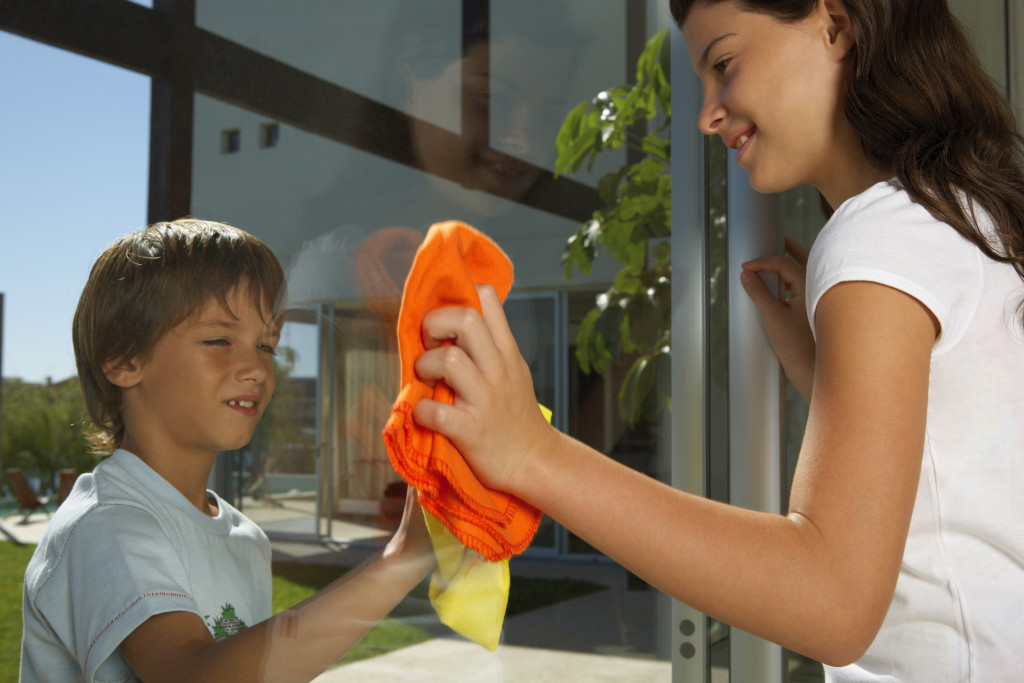 This may seem like an obvious tip, but it's one that's often overlooked. If you're using cheap or ineffective cleaning products, it's going to take you longer to get your home clean. And who has time for that? Instead, invest in some good quality cleaning products that will make your life easier. Below are some of the best general cleaning products:
Abrasive cleaner – The Pink Stuff cleaning paste is one of the most popular abrasive cleaners in the market. While it should not be used on surfaces that can get scratched, it can be used on most other surfaces like marble, ceramic, and granite. It's best used on bathroom areas, too!
Metal cleaner – The Weiman Stainless Steel Cleaner Kit comes highly recommended by buyers on Amazon. It includes wipes, a spray bottle for the cleaning solution, and a cloth, all of which can be used to clean up grime on metal surfaces and remove oil stains and fingerprints.
Wood cleaner – The Murphy Original Formula Oil Soap is a cleaner that has been around for a long time, and you can use it on wooden furniture, floors, cabinets, tiles, and linoleum.
Leather cleaner – The Chemical Guys leather cleaner and conditioner kit is great for cleaning leather surfaces of your furniture and conditioning it to protect it from stains. This effectively cleans leather and keeps it that way for a longer time, regardless of whether you spill things on it or sweat on it.
Start cleaning!
If you're not sure where to start, here's a checklist you can go through:
Keep lamps and walls dusted: Dust collects on surfaces quickly, and it's a major factor in air quality, so it's important to dust regularly. An easy way to do this is to use a microfiber cloth or a duster attachment on your vacuum cleaner. Focus on dusting high surfaces like lamps and walls first, then move on to lower surfaces like shelves and upholstery. If you do everything starting from the floor, you'll find that the dust from objects higher up may fall and accumulate on things you've already cleaned.
Clean window panes and blinds: Windows are one of the first places that dirt and dust accumulate. To keep them clean, start by wiping down the panes with a damp cloth. The procedure for cleaning blinds requires a bit more care. You have to carefully wipe through the gaps between each shade. This may be made easier by using a blind cleaning tool, which looks like a set of tongs but are curved to match the contour of the shades. However, a piece of cloth works just as well.
Vacuum floors and furniture: Vacuuming is essential for removing dirt, dust, and pet hair from furniture and upholstery. Use the upholstery attachment on your vacuum cleaner to reach all those nooks and crannies where dirt likes to hide. After that, vacuum the floor so that you can get anything that fell off the furniture and other fixtures. You may need a stronger vacuum if you also want to vacuum carpets and cloth surfaces (but really, the best thing for them is to use dirt extractors). For best results, vacuum weekly or bi-weekly. Vacuuming the floor also becomes very easy if you get a robot vacuum, since you do not have to think about doing this at all. You only have to empty its dust collector every couple of days, which takes about two to three minutes at most.
Clean leather furniture: Leather furniture requires special care to keep it looking its best. Use a leather cleaner and conditioner to clean leather chairs, sofas, and other furniture. Apply the cleaner according to the manufacturer's instructions, then buff the leather with a soft cloth until it shines.
Mop solid parts of the floors when you can: Mop the floor using a mop and a cleaning solution that best works for your floor surface. This way, you can remove any prints or stains. Make sure to dry the surface afterward. This becomes a non-issue if you invest in a robot mop. Some robot vacuums have both vacuuming and mopping features, too!
Final Thoughts
So there you have it — a checklist of things to do when you want to start cleaning your home. It's not an exhaustive list, but it will get you started. And once you get into the habit of regularly cleaning your home, it'll be easier and quicker to do (and maybe even a bit therapeutic). Just make sure to do this regularly—it's faster and healthier to devote ten to twenty minutes of cleaning every day than cleaning for hours after letting dirt build up for months!