Let's face it; the bathroom is the least updated room in the house. But it needs the same level of maintenance, just like any of the other rooms in your home. We recently updated ours and here is how the project went.
We improved our storage system
We had been having problems with our shelving and cabinetry – not only were they scarce, but the material that was used for the original installation is prone to mould growth. So, we got rid of the old storage systems and replaced it with new ones using marine plywood in NZ that thrives well in this kind of weather, especially when it is given protective coating.
Aside from its durability, the layers of this type of wood are bound together using waterproof adhesive, which prevents it from disintegrating and retaining moisture when exposed to moisture. This keeps mould and mildew from occurring on its surface, making it ideal for use in spaces that are exposed to humidity, moisture and steam from shower heaters.
This is the main reason we used this for our bathroom upgrade project when we knew we needed to redo the cabinetry and add more storage, too. So up the new shelves went as well as new drawers for the under-sink storage, plus a simple free-standing cabinet in one corner where we keep essential supplies within easy reach. We're finally able to get rid of clutter.
We designed it the way we use the space
The bath is a place for relaxation for us, too. So, we made use of a corner that was previously underutilised and under-designed. Now a small chair with a futon is placed in the corner, with a small table that holds a few candles and with enough space for a book.
For the nook table, we used the same wood that we did for the shelving and cabinetry; we would like the space to be mould-free as much as possible.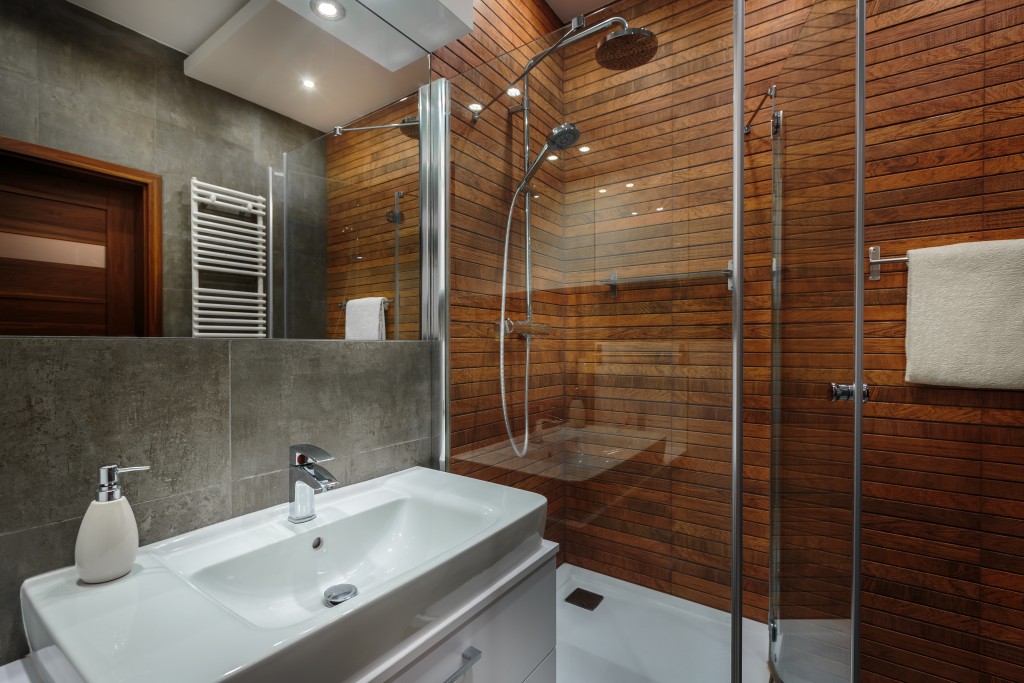 We installed a simple closed cabinetry for a streamlined look
That, and to keep everything out of sight. Inside it are shelves that are a tad bit shallower than usual, to make it easier to reach for things. It is also a more efficient use of space. We also had more layers, so we do not pile the stuff up and make it easier to keep things neatly piled.
Once again, the same type of wood was used for this construction.
We picked simple but pretty and functional accessories
Accessories that combine form and function never go out of style and will always be useful. Small changes like updating the ceiling light, using some countertop containers to hold daily used items, stock supplies like bath bombs, shampoo bars and conditioner bars.
They not only look cute; they also add colour to the space in minute quantities. It is purposeful and decorative, plus it scents the room nicely, so that is another plus. A few finishing touches like some scented candles, vanity jars and a nice wall mirror that fills the wall space completed the overall look.
The bath now doubles as a private spa because of how relaxing the space feels. But more than just having a nice-looking bath, we wanted to make sure that it does not become a breeding ground for mould and mildew, as these things can potentially cause health issues.
Aside from that, mould and mildew growing on non-water-resistant surfaces in a room that's normally exposed to moisture can develop a musty, unpleasant smell. So, by using mould and mildew resistant wood, minimal accessories that are made of glass, we've minimised the chances of these problems from occurring and have also made cleaning easier for us, as the materials are easy to clean and dry, too.
Are you looking to update your bathroom, too? What from ours will you do as well and what other things would you add? Are you planning to use marine-grade wood for your mini reno, too? Share your ideas with us!