With summer coming up, it's a good time to dust off the barbecue and bring out your trusty tongs. You and your family members can look forward to afternoons and evenings of ice-cold drinks enjoyed with tasty, grilled or smoked meats.
Here are some tips to make sure your backyard barbecue goes smoothly:
Ready the Right Tools
The old adage "use the right tool for the job" applies to a lot of tasks, and barbecuing is no exception. Prepare a pair of long-handled tongs to make it easier to place and move food around on your grill. Tongs are very useful for moving heavier meats and vegetables like whole potatoes and corn on the cob. Choose long-handled ones so your hands and arms can stay further away from the hot grill, lessening the chance of getting any burns.
A meat thermometer is another good barbecue tool to have so you can better gauge if the meat is cooked on the inside. Ready a DIY herb brush by tying herbs like rosemary, thyme or parsley to the other end of a wooden spoon or stick. Dip the herb brush in some olive oil, then brush on the meats before grilling. Have an apron and a pair of barbecuing gloves ready for more safety.
Prep the Grilling and Dining Area
Clear out the yard of any clutter like garden hoses, lawnmowers, and other tools. Clean out the area and get rid of any fallen leaves. Bring out any lawn furniture you have, like recliners. Set up the tables and chairs, and have a table or trolley placed close to the grill to hold the meat and any condiments. Have the drink cooler ready and filled with ice to keep drinks cold and spare you the trouble of making trips to and from the fridge.
Be sure to provide some shade at the outdoor dining table with a large outdoor umbrella, or have retractable rolling awnings installed. Prepare the cutlery, plates, napkins and glasses. Have a trash bin lined with a trash bag nearby to make cleanup easier. There may be some pesky mosquitoes out, so bring out the bug zappers and rub on some insect repellent.
Marinate the Meat
As much as possible, prepare the marinade and marinate meat the night before to ensure the meat is flavored thoroughly and tenderized. Take your pick of marinade and follow the instructions. Prepare plastic or glass containers to marinate the meat and refrigerate overnight. Brush small dabs of the marinade on the meat occasionally while grilling. Shake off any excess marinade off the meat prior to placing on the grill; excess marinade, especially ones with oil, can cause a flare-up or char the meat.
Grill and Serve Properly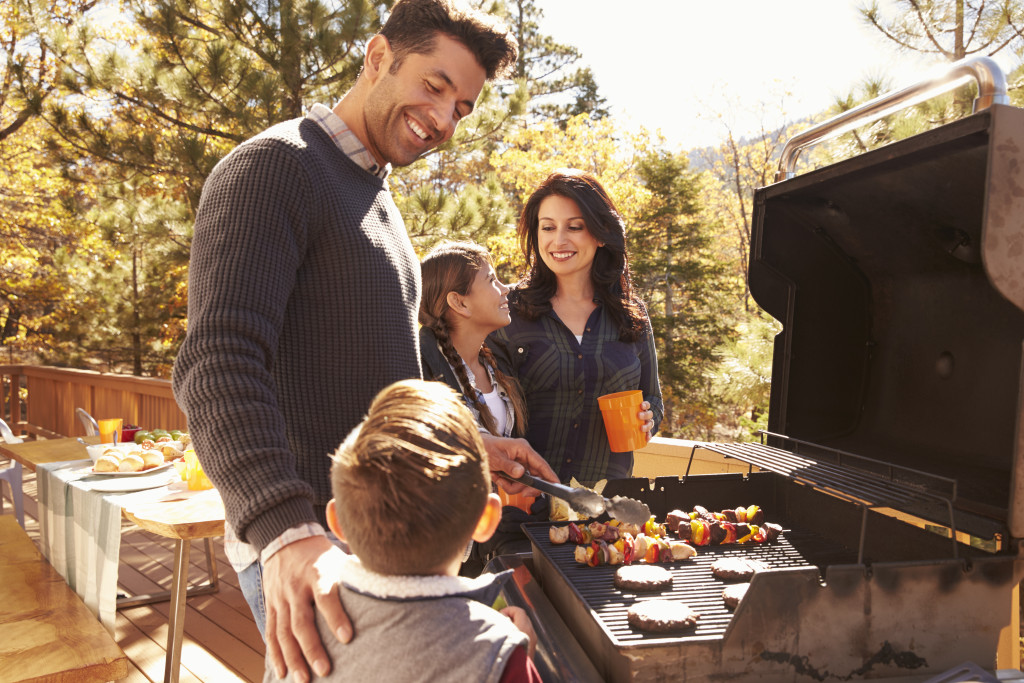 Before grilling, ask each person which meat they want and how "done" they want it (if it's steak). Have a post-it note of their preferences close to where you can see it. As each piece of meat is cooked, place it on designated platters for "medium rare", "rare", and "well-done". Don't serve any steak immediately and allow them to "rest" for at least 10 minutes for every inch of thickness.
Note that steak still "cooks" on the inside after taking it off the grill. Letting steaks rest allows the flavors to settle and the meat to tenderize further. While waiting for the meat to rest, serve cold salads and appetizers.
As summer approaches, enjoying a barbeque in your backyard can be a fun way to beat the heat and bond with family members. Prepare the grill, tools, cutlery, and outdoor furniture, and then marinade the meat for your backyard barbeque to go without a hitch.