Are you having friends or extended family members over at your home, but you're bored with having the same old indoor party? Well, why don't you take your guests (and the fun) to your backyard?
When summer rolls in, take advantage of Utah's great weather and plan a laidback, chill backyard party for your loved ones. Just make sure to have plenty of food and drinks and set the right mood to keep the party and stories going on for hours.
Check out these more tips for a fun outdoor party.
Prepare a great menu
Taking the party outdoors means you can turn it into a fun barbeque party. So, ready the grill and the meat. Create a guest list and send them invites telling them of your outdoor party. This way, they can also bring something they want to add for the grill.
It is also important to know what your guests' preferences for food are. Someone with a specific diet, say, a vegetarian or dairy-free diet, maybe coming over so make sure you have food prepared for them.
Bring out the coolers
Coolers are a must for every outdoor party. Having cold drinks is especially needed for summer gatherings. Tie bottle openers at the handle of your coolers so that guests won't have to go around looking for them.
If you have a kiddie pool, take it out and fill it with ice. Cold desserts may be placed here, too. Make sure to prop it up with a table so that it will be easier for people to reach.
…And the light
Bust out your artistic side and create lighting that can set the mood. You can hang strings of lights on your trees or the fence, and around the bean bags. Further ignite the party by gathering your friends and family around your outdoor fire pit while catching up with each other.
Make sure your guests are comfortable
While it may be best to know beforehand how many of your guests are coming over, there may be last-minute additions. And you can't just turn away these people! Have chairs prepared for everyone. For those who are joining the party outside your initial guest list, you can prepare blankets or bean bags for them.
It will also be best to put out pots of herbs to keep your guests protected from bugs. Try bringing out your pots of lavender or mint that are known as insect repellants.
Create a fun playlist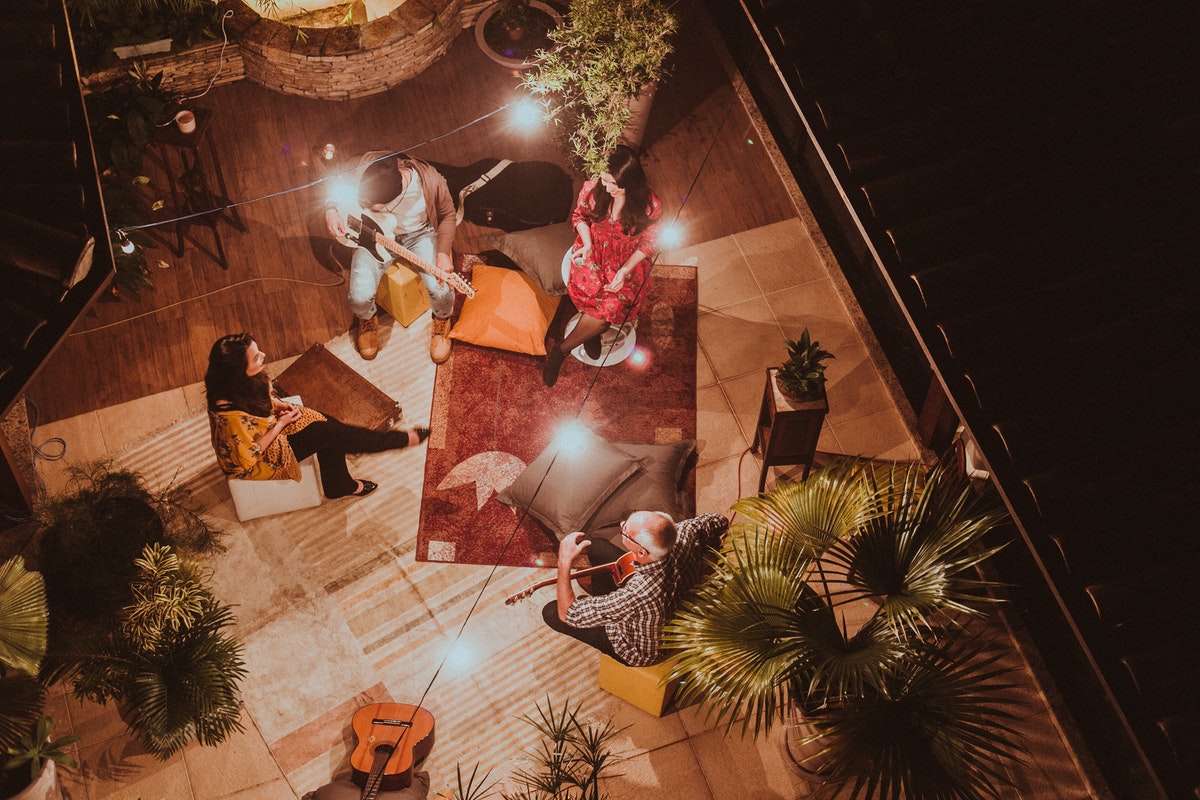 Prepare a playlist that can run for hours before your guests come over. This will set the mood for the party. Add some classics with newer ones inserted here and there, so more people can enjoy the music.
Time for games
Take advantage of your backyard space by planning some games with your friends. There is more space for the classic "Truth or Dare" or you can create a piñata that will surely have guests of all ages lining up. When the party bleeds into the night, you can still play card games while gathered around the fire or spread out in blankets.