The coronavirus pandemic has adversely affected our routine, lifestyle, and relationships. Some employees needed to start working from home, while students had to transition to digital learning. Stress and anxiety rose not only because of the fear of being infected but also because of loneliness and drastic changes.
As the pandemic continues to escalate, we find ourselves turning to different activities that can help us cope emotionally. When it comes to easing our anxiety, we can all agree that listening to songs can be effective and powerful. Music can be therapeutic for our mental and emotional health, whatever genre and whoever the artist or band.
Music has a direct connection to our emotions. Upbeat, lively, and even sad music can alleviate our stress and lift our mood. With music, you can create a relaxing space inside of your mind amidst the chaos of pandemic, giving us a quick escape from reality while reconnecting with our inner selves.
How Music Can Ease Stress and Anxiety During the Coronavirus Pandemic
It is essential we engage in music while we spend most of our time stuck at home. Here's why.
Emotional Outlet
Writing and recording a musical piece is a way to communicate our feelings with other people. You can express and heal yourself through music. With it, you can release the words that you can't speak and emotions you are afraid to feel. If you are interested in this but lack the musical knowledge, you can always learn to play by yourself by taking lessons for guitar and other musical instruments
Music isn't just an emotional outlet for the people playing. You can also feel and release emotions while you listen and relate to the lyrics and harmony in the songs. Our hearts and minds have the ability to understand the emotion in every beat and rhythm. In fact, listening to music can light up the whole brain, activating the networks responsible for our range of emotions and creativity.
Relaxation and Stress Mitigation
Music enables our bodies to release tension by relaxing muscles. When you allow yourself to chill, your mind also relaxes. This way, you can reduce the stress you have been experiencing throughout the pandemic. Moreover, music energizes your body when you are doing yoga or physical activities. It also encourages your brain to get into the meditation zone, which is beneficial for stress relief.
Some music can also boost your positive feelings. Although it is nice to be realistic, it is also good to see this pandemic's brighter sides, such as reconnecting with your family and yourself. Plus, positive affirmations from the song lyrics can uplift your mood and change your perspective.
Musical Activities for the Whole Family to Enjoy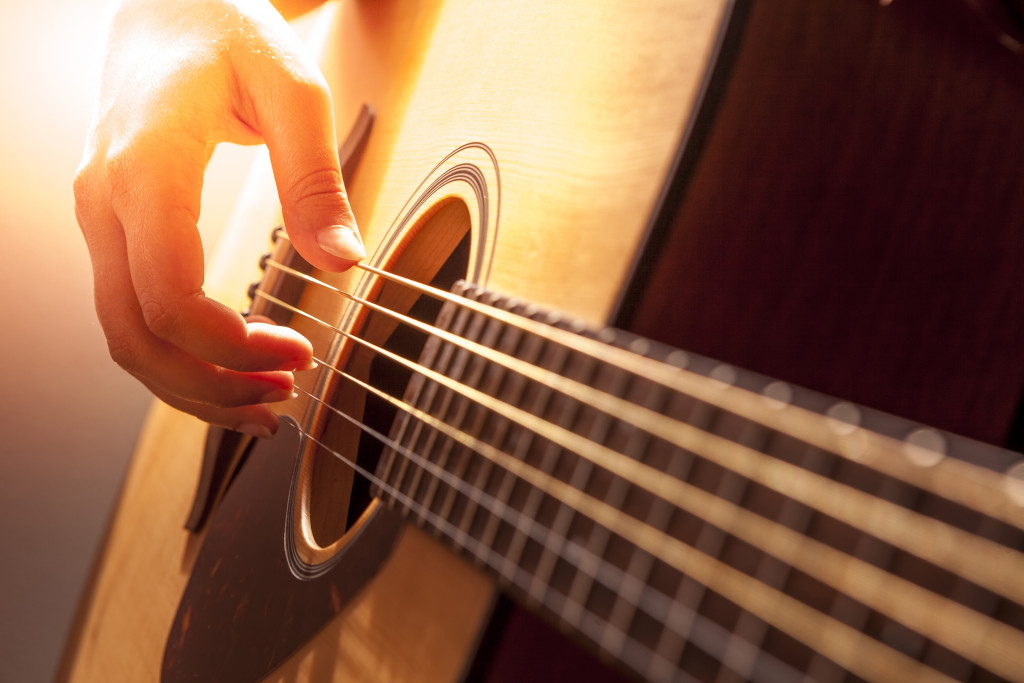 Now that we know how much we can benefit from music, let's incorporate it in the special time we put aside to bond with our family! Although the pandemic has impacted the way we do our everyday activities, you still can learn and enjoy music as one family Here are some music activities that every family can try during the quarantine.
Family Jam Session and Karaoke
Singing together can reduce your stress and develop a sense of connection. One family member can play an instrument, while the others can sing. If you do not have an instrument, you can look for objects that can create beats. You can also download a karaoke app or play karaoke tunes on YouTube that you can sing as a family.
Doing Physical Activity While Playing Music
Music can be therapeutic, as it promotes relaxation and alleviates stress. But did you know it can even aid in physical discomfort? Try integrating music with your workout sessions. It will improve your respiration and cardiac output while relaxing muscle tension and reducing your heart rate. Plus, you and your family will feel more motivated to finish any physical activity with music in the background.
Learn New Musical Instruments
While we're stuck inside our homes, we can still be productive. Some of you might have planned to learn how to play guitar or keyboards but have no time. Now that you have more time with your family, take advantage of lessons online.
Dance Party
Music and dance are shown to have positive effects on our physical and mental health. When we move our bodies, we also release our tension and stress. There are easy dance challenges on the Internet that you can follow as a family. You can create a list of upbeat songs that your family would like and have a fun dance party!
Musical Learning
Children can quickly learn through music. You can take math and science lessons to the next level by adding simple melodies. Make your child's education more engaging and fun through this activity.
As a family, we must look for creative ways to reduce our stress and anxiety. We need to secure each family member's mental health and face the challenges of the pandemic as one. Music can become a source of peace and comfort for your family, strengthening your connection to each other. With the information we've shared, you can integrate music into your daily routine to create a more joyous family life even during the pandemic.