Your kitchen is home to a lot of things. Hot and cold fluid drips, heat, utensils dropping on the floor, people constantly walking around the area, and kids spilling their food.
Every home's kitchen goes through a lot. It's important to keep it strong with quality materials because the last thing you'd want is to have a kitchen that isn't helping you the way it should.
In designing a kitchen, there is a dilemma on which aspect of it you should splurge on—you're lucky if you don't have that specific type of dilemma when building or rebuilding your kitchen. But for some people, difficult choices need to be made in order to have a fully functional kitchen that will serve you for a long time.
What Should You Prioritize?
The part of your kitchen that should be receiving more love compared to the others is your flooring. It takes all the pressure, the spilled liquids, food, the constant weight, and the screeching furniture.
The quality of your kitchen's flooring should be good enough to live through multiple kitchen hazards and manage to look presentable while going through daily abuse.
Here are some recommended kitchen flooring materials you can choose from:
1. Hardwood
Hardwood's nature makes it a go-to durable flooring material for any part of the house excluding bathrooms and laundry rooms. But like any other material, hardwood has its limitations—it can be quite weak when it comes to withstanding moisture for long periods.
Before modern sealants and polyurethane finishes, hardwood as kitchen floor material is considered a poor choice. Thanks to today's innovations, the material became more durable and long-lasting, even under extreme conditions.
2. Bamboo
The feel and appearance of bamboo flooring are similar to hardwood ones. But what's different about this one? It's actually harder than hardwood. The way it was manufactured makes it a stronger performer against moisture and the hazards of water.
Its popularity has been increasing because of its relatively higher durability compared to its counterpart—wood.
But the added durability and lifetime didn't come for free. Bamboo flooring is more expensive than hardwood ones. They are more difficult to maintain because of the lack of natural grain direction. Refinishing is best done with the help of professionals.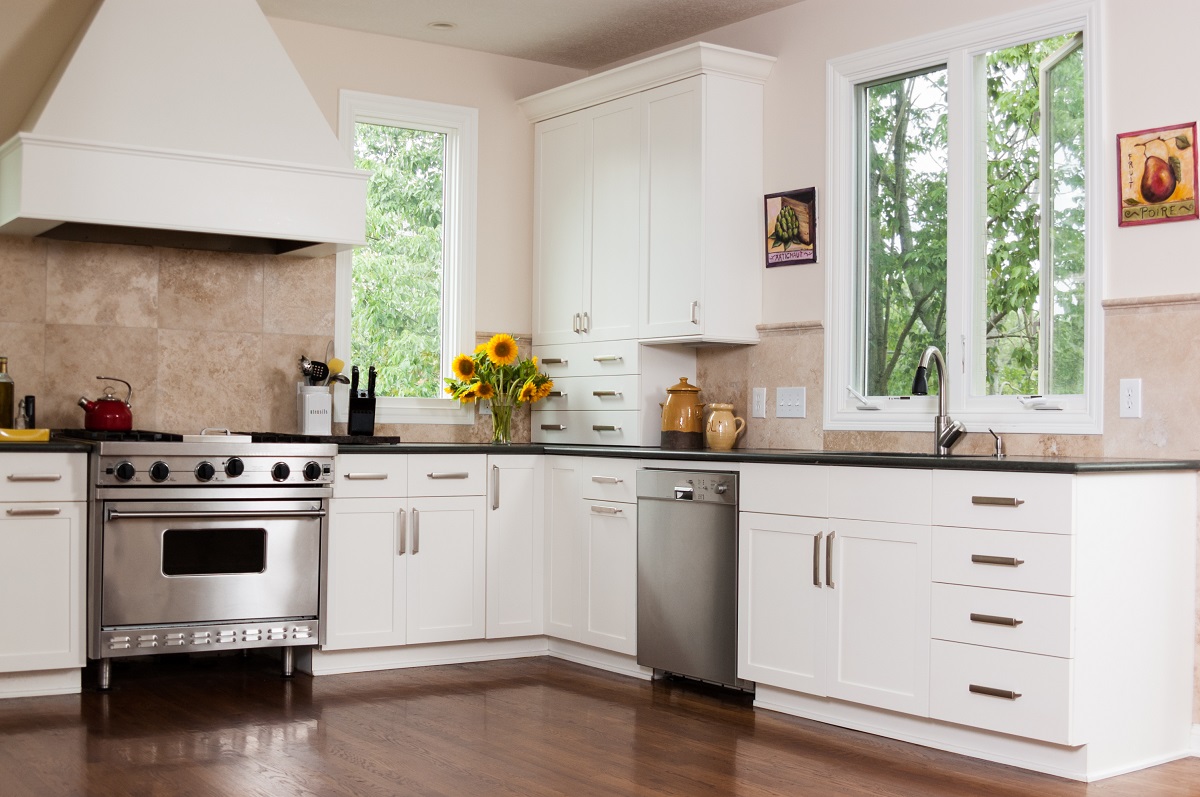 3. Ceramic
Ceramic tiles are made out of natural clay that went under shaping, glazing, and extreme heating. It's considered an extremely durable material in flooring because they are hard, and water isn't able to penetrate their core.
Under normal conditions, ceramic flooring lasts forever—only changing appearance over time but never needing complete replacement or frequent maintenance work except for regular cleaning.
This flooring material is also highly customizable. They come in a variety of colors, patterns, sizes, shapes, and others.
The only downside to this material is it's a cold building material. You'll be able to feel it barefoot, but this can be remedied by under tile heating systems.
4. Laminate
Laminate flooring is inexpensive and functional. This type of flooring is made of a wood base topped with an image layer and a translucent wear layer. It is highly susceptible to moisture, but its sealant makes it able to withstand certain levels of condition.
They can last longer with top and bottom coating. Its strength against fading due to age and abuse is surprisingly high given the thin material. Like other types of flooring, they can live longer if cleaned regularly.
5. Linoleum
Linoleum in kitchens have been around for a long time, ever since we started using it 50 years ago, it has been a reliable flooring material. It is made from linseed oil and is environmentally friendly, easy to keep clean and maintained.
But linoleum is also highly susceptible to water damage such as flooding, but when not put under immense pressure and wetness, they can last for about 40 years.
What to Keep in Mind
In picking a material for your kitchen flooring, it's good to consider how much you'll be using the kitchen itself. Will you be cooking frequently? If so, you'd need to opt for flooring materials that work well against moisture and heat. If you eat in your kitchen, keep in mind food and liquid spills, too.
Another thing is if you'll be living with kids or pets, you'd want your kitchen floor to be slip and spill-proof. Also, think about your budget for the kitchen project—you might have to make a few sacrifices in order to have a flooring that won't only last a long time but can make your kitchen look good.