Stringy, salty and downright yummy, string cheese is one of America's favorite snack time buddies. Whether you bite into it (just like they do in the movies) or be a little fancier by adding it to your dish, string cheese is undoubtedly a staple in almost all of the country's refrigerators and pantries. It is comfort food that is part of almost everyone's self-care regimen.
But as much as you'd like to munch on this cheese all day, minding health matters, too. This is where a discussion on string cheese nutrition comes in.
Is string cheese healthy or not? What is the nutritional value of string cheese? Should you indulge every day or should you give string cheese a break?
Is It Healthy to Eat String Cheese?
String cheese is the perfect snack for energy. A single serving of string cheese has 84 calories, 1.58 grams of carbohydrates and 0.54 grams of sugar. The lighter version of string cheese is about 50 to 60 calories. If you need a portable snack that gives a boost of energy, string cheese is a perfect option that you must pair with another healthy snack, such as fruit or veggies.
Apart from energy, string cheese is also rich in vitamins and minerals. Consider the nutrition breakdown of string cheese.
String Cheese Nutrition Facts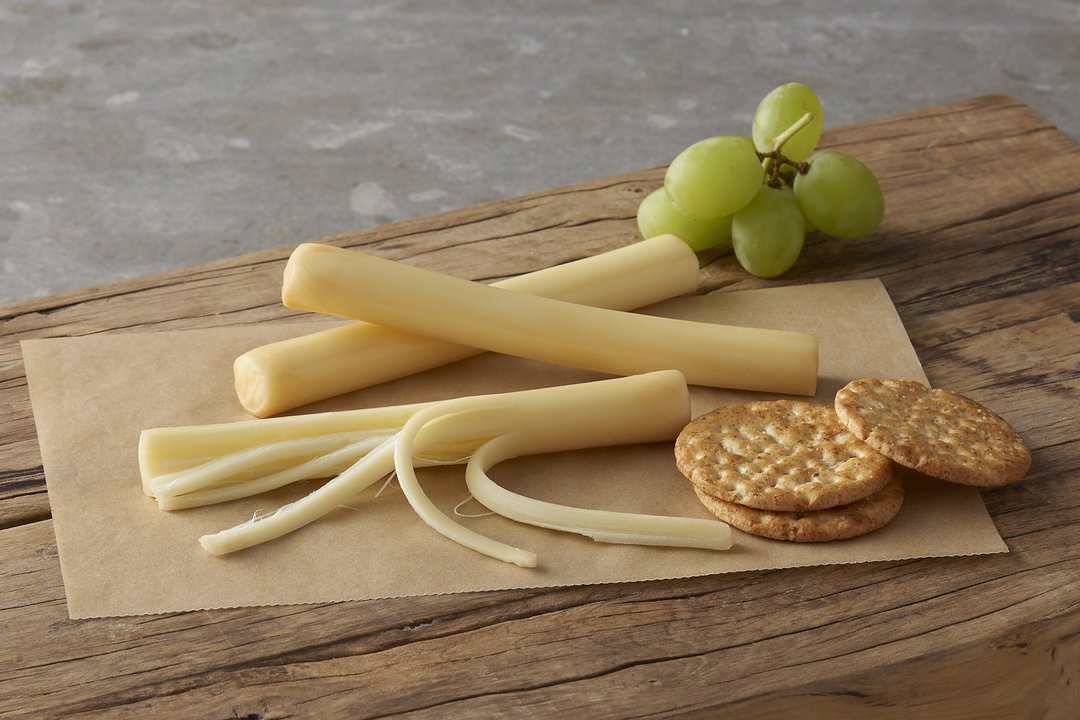 Vitamins:
Vitamin B2 (Riboflavin): 8 percent
Vitamin B12: 20 percent
Vitamin B6: 2 percent
Vitamin B5 (Pantothenic acid): 2 percent
Vitamin B1 (Thiamin): 1 percent
Vitamin B3 (Niacin): 2 percent
Vitamin D: 1 percent
Vitamin E: 1 percent
Vitamin K: 3 percent
Choline: 1 percent
Folate: 2 percent

Minerals:

Calcium: 15 percent
Phosphorous: 12 percent
Sodium: 8 percent
Selenium 14 percent
Potassium: 1 percent
Zinc: 9 percent.
As shown above, string cheese is rich in vitamin B12, which is a vitamin that plays an important role in nervous system function, DNA formation and cell metabolism. A sufficient intake of vitamin B12 can also prevent anemia, a condition caused by a deficiency in vitamin B12.
In terms of minerals, string cheese is also rich in calcium, which is found in most dairy products. It is also an important mineral for maintaining and building strong bones. A daily supply of calcium and vitamin D can also reduce your risk of fractures.
Selenium is also important in strengthening your immune system, as well as producing selenoenyzmes, which serve as your body's antioxidants.
String cheese is also a good source of protein (seven grams per stick). Complete your high-protein meal plan with an ounce serving of nuts, two hard-boiled eggs and some fresh fruit.
So if you want to stick to your diet, eating a healthy portion of string cheese is good for you.
String Cheese as a Nutritious Portable Snack
In general, a lot of snacks offer convenience and portability but not all are healthy. For instance, foods like potato chips, cakes, candy and cookies are convenient. People love these snacks because they can satisfy cravings. However, they are also high in refined carbohydrates, calories and unhealthy fats.
String cheese, on the other hand, can easily slip into a lunchbox. This cheese is relatively high in protein, low in calories and rich in vitamins and minerals.
Apart from being nutritious, string cheese is also a fun snack. A regular slice of cheddar might seem boring to children. If you want to liven up their snacks, give them string cheese. They can have fun while peeling the strings of cheese — an activity that even adults find enjoyable.
But like any food, consuming too much of sting cheese can also be bad for your health.
So what happens if you eat too much string cheese? You'll most likely experience bloating or gas. Cheese, like other milk products, contains lactose, which can be difficult to digest for most people. Moreover, since cheese is a low-fiber food, excessive consumption of any type of cheese can cause constipation.
Another downside to string cheese is that it doesn't have the same nutritional value as regular cheese. Regular cheese is still healthier compared to processed string cheese.
Healthier Cheese: How to Make Homemade String Cheese
The best answer to the question "What is the best string cheese?" is simple: homemade. Although store-bought string cheese is available in "lighter" variants, they are still processed. Plus, you save more money with homemade string cheese.
If you want a healthier version of your favorite snack, it's best to make your own.
The trick to DIY string cheese is in the stretching. Before you stretch your cheese, however, make sure the cheese curd's temperature is about 170 °F then you do the following:
Poke a hole in the middle of the cheese curd and make a big donut shape.
Stretch the donut into a long cheese loop.
Fold the loop into half until you can make four ropes of cheese. Stretch it again.
Repeat the fold and stretch step.
Keep folding until you have long mass of thin cheese strings or ropes. When your cheese ropes are thin enough, roll them into a traditional stick shape.
If you want to make the traditional string cheese sticks:
Stretch out your cheese so that it becomes a roll about a half-inch in diameter.
Cut them into 6-inch sticks before you twist each stick and pinch the ends together to seal them.
Set the stick in a dry place.
But what if you want to make a larger roll of string cheese?
Fold your cheese curds until they become 10 to 12 inches long.
Twist the ends in the opposite direction.
Poke the ends back into the cheese for security.
String Cheese Recipes to Try
Sting cheese is good enough to eat alone. But if you're feeling a little creative in the kitchen (or are just bored with munching on regular string cheese), there are many ways to add life to string cheese. String cheese can be the perfect ingredient for the following recipes.
Smoked string cheese and prosciutto bites. If you're hosting a fancy dinner, start your menu with string cheese — a fancier version of it, of course. For appetizers, serve smoked string cheese and prosciutto bites. All you need are three ingredients:

Four (4) sticks of string cheese
Three (3) ounces of prosciutto
One (1) cup of baby arugula
Take a few arugula leaves and place them under a piece of string cheese before you wrap them in prosciutto.
String cheese sticks. Looking for the ultimate comfort food? Cook your string cheese into cheese sticks. Take some cheese sticks and coat them in breadcrumbs before frying them. You can deep-fry them in oil or just use an air fryer. Dip them in marinara sauce for good measure.
Chopped string cheese has the perfect texture and size to skewer on sticks along with other favorite kebab must-haves: lean protein and fresh vegetables. If you're experimental, why not try a sting cheese kebab with healthy avocados and grilled chicken?
Cheesy roll-ups. String cheese is a simple ingredient that you can use in just about anything. For instance, you can wrap it in deli meat or tortilla wraps and cut them into pieces to make delicious cheese roll-ups. If you want your kids to eat more veggies, add some fresh vegetables or herbs into the rolls before rolling them up.
Tomato and cheese pasta salad. No one can resist a good bowl of pasta filled with cheese. Make it healthier by cooking some diced string cheese with bowtie pasta, basil, grape tomatoes and olive oil. Toss your ingredients and enjoy your fancy pasta or salad.
Stuffed pasta. Take your love for the pasta to the next level by stuffing them with cheese. One bite of the pasta rewards you with ooey, gooey cheese!
Stuffed crust pizza. If you want your pizza to have the same cheesy surprise as your pasta, string cheese is also the perfect ingredient. While making your pizza dough, add some cheese along the edge before you roll the crust on top.
When it comes to string cheese nutrition, there's no doubt that this string of cheesy goodness is a great addition to your diet — as long as you consume the right amount.  Indulge in your love for sting cheese without the guilt by eating it responsibly.