The pandemic is something none of us ever expected to occur, but if there's anything we can get out of this, it's the significant trends. With safety protocols, most of us have stayed within our homes for the better part of a year in an effort to prioritize the health and safety of not just ourselves but our communities. Due to this, various home renovation trends have been recurring, particularly during this new normal.
Homeowners are thinking of new and creative ways to transform their homes into one with a beautiful, valuable and modern touch. With this being said, here are just some of the home renovation trends during the new normal:
Home offices
The new normal has been a big adjustment, particularly when we went from an office setting to a remote setting. Employees are trying to adapt to remote work by creating a dedicated space for their work tasks. This is primarily because homes are filled with all kinds of distractions, and the only way to reduce those distractions is by creating a home office. Home office designs can vary from traditional hardwood desks, bookshelves, and dark leather couches.
Modern home offices can also look like light, airy spaces with modern furniture and floor-to-ceiling windows. They could also consist of an ergonomic chair, a bigger monitor, laptops, a wireless keyboard and mouse, and whatever you want your office space to include. In creating your home office, the important thing to remember is to make sure all the elements have a purpose and contribute to boosting your concentration and productivity.
Workout spaces
As people were confined to their homes, the need for home gyms or workout spaces also became apparent. Physical activity is an essential part of any lifestyle, and because people couldn't go for a run or spend an hour in the gym, home gyms became a common renovation project in homes all over the world. While workout routines can vary depending on your individual fitness goals, you need some staples in your workout space, such as a full-body mirror, yoga mat, resistance bands, and some weights if you're into weight training.
While not as challenging to design as a home office, home gyms are particularly difficult to place in your home as they need good ventilation and sturdy floors if you are weight training. A popular trend during the pandemic was to transform garages into workout spaces. Wights can damage hardwood, or tile floors and garages can easily use urethane sealers on concrete floors to give it a smoother finish.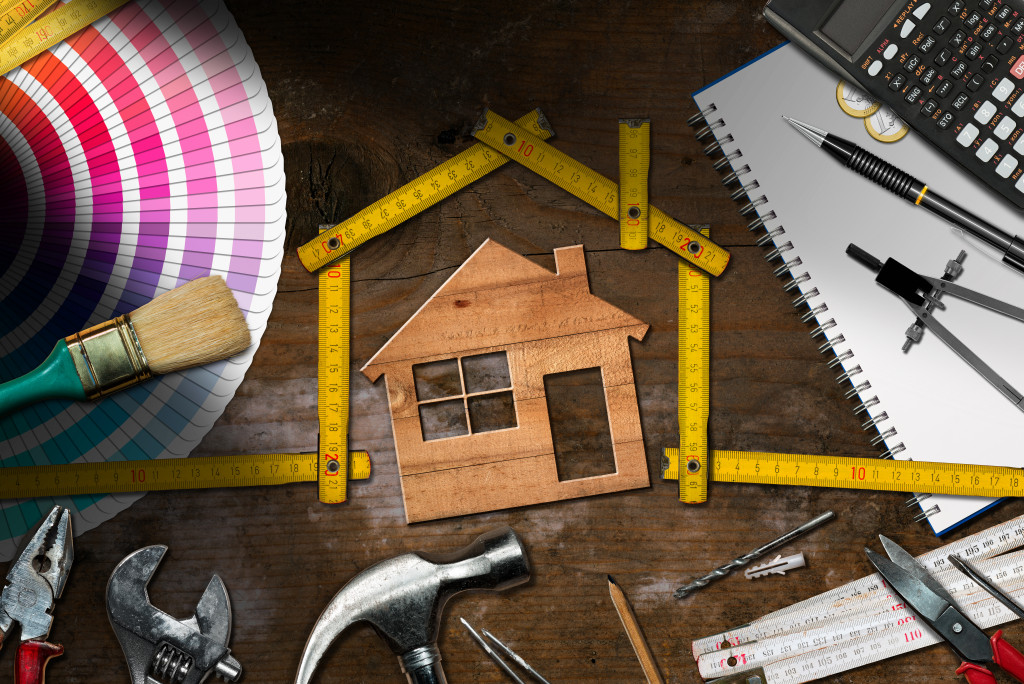 Outdoor spaces
Everyone was looking to get more fresh air during the pandemic. Whether it's a small balcony, veranda, or a grand backyard, outdoor spaces were definitely a popular trend during the new normal. Outdoor spaces are a bit tricky to change as outdoor furniture or renovations may require the help of expert builders, but it's a beautiful space to have for you and your family in the new normal. Pools, fire pits, decks, and landscaping are just some of the most popular ways you could transform your space from a patch of grass to a place to unwind.
Outdoor spaces are also great for family homes as children tend to feel cooped up when in the house for prolonged periods of time. Some outdoor furniture can take your backyard and transform it into a learning space for their virtual classes. Gardening has also been in full swing as fresh produce became harder and harder to find during the lockdowns and it looks like this is a trend that's here to stay. Having your own herb garden or fresh tomatoes can change the way you look at cooking and is also a great way to spend some time outdoors.
Gaming and entertainment spaces
The new normal has proven there to be a rise in individuals who spend their time on streaming platforms like Netflix and Hulu. This also goes for online games and video games. Due to the higher demand for entertainment, many homes have opted to have gaming or entertainment spaces be different from their living rooms. Differentiating this space can result in a less cluttered living room, and having a designated space for gaming also helps children distinguish between family time and playtime.
These recreational spaces typically have multiple bigger monitors as part of PC setups, LED strip lights, gaming gadgets, high-quality speakers, and the like. You could even have sofa chairs within this space fitted towards your preference and needs. This is often found to be a need in every home, especially with individuals spending more time on Netflix and video games nowadays.
These trends have been recurring throughout the pandemic, and you can take advantage of these trends to transform your home into a more functional and beautiful space. Of course, they should also be tailored for a look that best fits your needs and standards.