Add vibrancy and color to your home with spring-inspired hues such as soft pastels, pink, yellow, light green, oranges, and more.
Incorporate natural elements into your home decor by styling and arranging fresh flowers, green foliage, and succulents.
Introduce texture-rich ensembles like woven baskets, velvet pillows, kitchen mats, and faux fur for a luxurious feel.
You don't have to completely overhaul your space to enjoy the season even small touches can make a big difference.
Many are getting eager to feel that warmer weather and are awaiting the chance to enjoy more outdoor activities with the coming of spring. With the changing of the seasons knocking on the door, why not take this opportunity to spruce up your home with a few spring-inspired touches?
Whether you're looking to do a complete overhaul or add a few small touches to give your living space a fresh and inviting look, here are some design ideas that will help usher your home into the new season.
Vibrant and Colorful Spring Hues
Adding the right color tones to your house is a perfect way of inviting the seasons into your own home with some choice paints to some well-placed furniture and decorative pieces, your home can go from zero to one.
Consider adding a pop of color, like daffodil yellow or tangerine orange, particularly fitting for the springtime look.
Energize Your Home with Spring Colors
The sunlit spring tint, this light spring color palette, is a vibrant and cheerful combination of colors that bring a burst of energy to any living space. These colors include soft pastels, pink, peach, yellow, and light green.
The copper spring palette, a warmer type of color tone, is an inviting and elegant combination of colors that gives a soothing, cozy atmosphere. It includes deep reds, oranges, and browns with subtle hints of copper and bronze.
The vivid spring shades, this bright spring theme or sometimes referred to as the "clear spring color palette", is the most vibrant and eye-catching of them all. This shade ranges from electric oranges, blues, pinks, purples, and greens that create a lively atmosphere.
These splashes of color will surely revitalize your home and invite the blossoming feel of spring inside your house.
Welcome Nature Into Your Home
Incorporating natural elements into your interior decor is a great way to inject some seasonal vibes into your home without re-painting your walls and ceilings or putting up floral-designed wallpapers.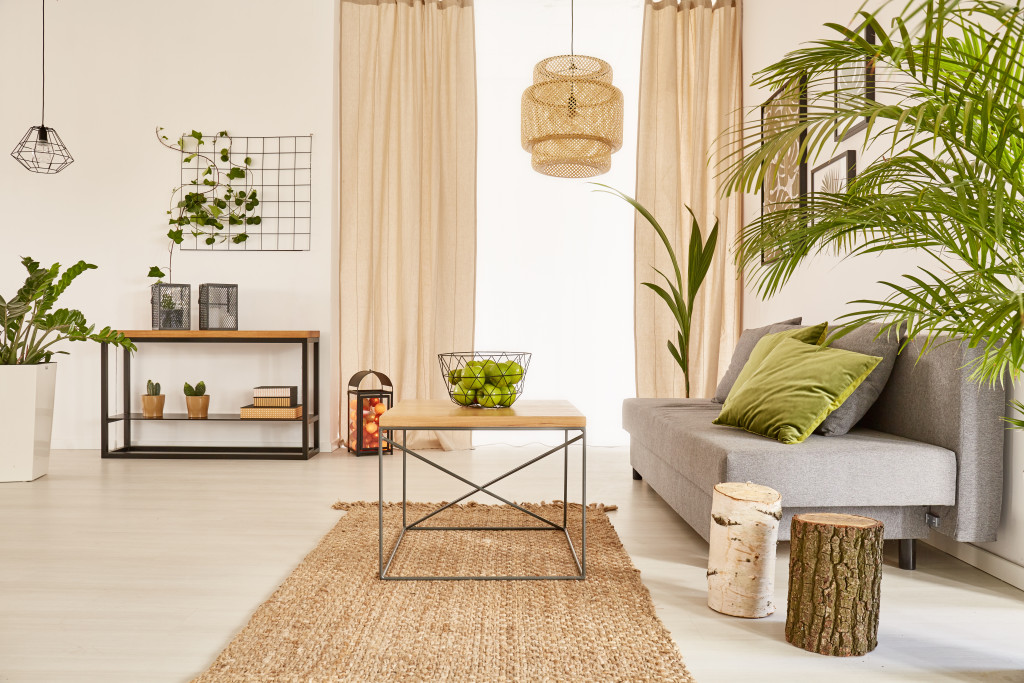 How to Incorporate Natural Decor Inside Your Home
Use fresh flowers, green foliage, and succulents to make any room feel fresh, bright, and more alive. You can even style and arrange them with your family as one way to bond with them after which you can place them on pots or hang them from the ceiling.
When it comes to indoor plants, there are many varieties to choose from depending on the size and light levels in a room. Good examples are ferns such as Boston, Macho, and Kimberly Queen which are perfect for brighter and more humid areas, while Peace Lilies, spider plants, and pothos are great for low-light areas.
Let's not forget about the outdoor area of your home. If you have a garden, deck, or patio, you can use these as an extension of your living space and turn them into a cozy spot where you can lounge or relax and let nature and your home meet in the middle.
These neat design hacks save you time and money. It will also improve your health with all that greenery inside the house producing fresh air for you. You can place synthetic decorative pieces instead if you happen to have allergies to real flowers.
Not only are these pieces lovely, but they are also timeless, so you don't have to worry about them going out of style anytime soon.
Put Texture Into Your Designs
To really give your space that full spring feeling, add some texture-rich ensembles into your decorating scheme.

Adding Texture Pieces the Right Way
Creatively including textures in your home design gives each room you decorate a sense of completeness, depth, and dimension.
Woven baskets painted in light colors and used as plant pots along with cute dainty coffee tables are perfect for giving an elegant spring feel without cluttering up your living area too much.
You can also utilize textures such as velvet or pastel-colored faux fur to create a luxurious look inside your bedrooms with throw pillows embellished with floral embroideries as another great option to make the room stand out.
Add some kitchen mats with bold, elegant textured designs in different lengths and sizes that elevate the feel of your kitchen floor along with some choice colored plates and saucepans, and hand-crafted kitchen hand towels to go along with the whole motif.
Now you're ready to welcome the season of spring into your home—with the help of vibrant and colorful hues, natural elements like fresh flowers and green foliage, and textured pieces for a more inviting atmosphere. With these simple touches, you can easily transform any living space for a refreshing new start this season.