Designing a home interior can be daunting. You have to consider many factors – function, style, comfort, space – and it's easy to feel overwhelmed. But don't worry, with a little bit of planning and some expert tips, you can create a stylish and functional home.
Here are some tips to get you started:
1. Start by creating a mood board to get an idea of the look and feel you want for your home interior
A mood board is a great way to get the overall look and feel you want for your home interior. You can start by collecting images from magazines, online, or anywhere else that inspires you.
Once you have a good selection of images, lay them out on a large surface and start to group them based on similarities in color, style, or theme. This will help you see the overall aesthetic you are going for and make it easier to narrow down your choices. When choosing furniture and decor, it is essential to consider both function and style.
For example, a sofa should be comfortable and fit the space well, but it should also complement the other pieces in the room. By taking some time to create a mood board, you can make better decisions later on in the project.
2. Choose a color scheme and stick to it throughout the house
Choosing a color scheme is crucial for designing a stylish and functional home interior. A cohesive color palette can make any space feel unified and polished while providing a backdrop for your furnishings and decor. Of course, picking the perfect colors can be tricky, but that's where a little planning comes in.
First, decide which colors you want to use throughout your home. Next, think about how you want to use each color. For example, you might choose a light wall color for an airy feel or a bold accent color to add personality to a room.
Start incorporating your colors into your design once you have your colors picked out. Use paint, fabrics, accessories, and other elements to create a cohesive look that reflects your style.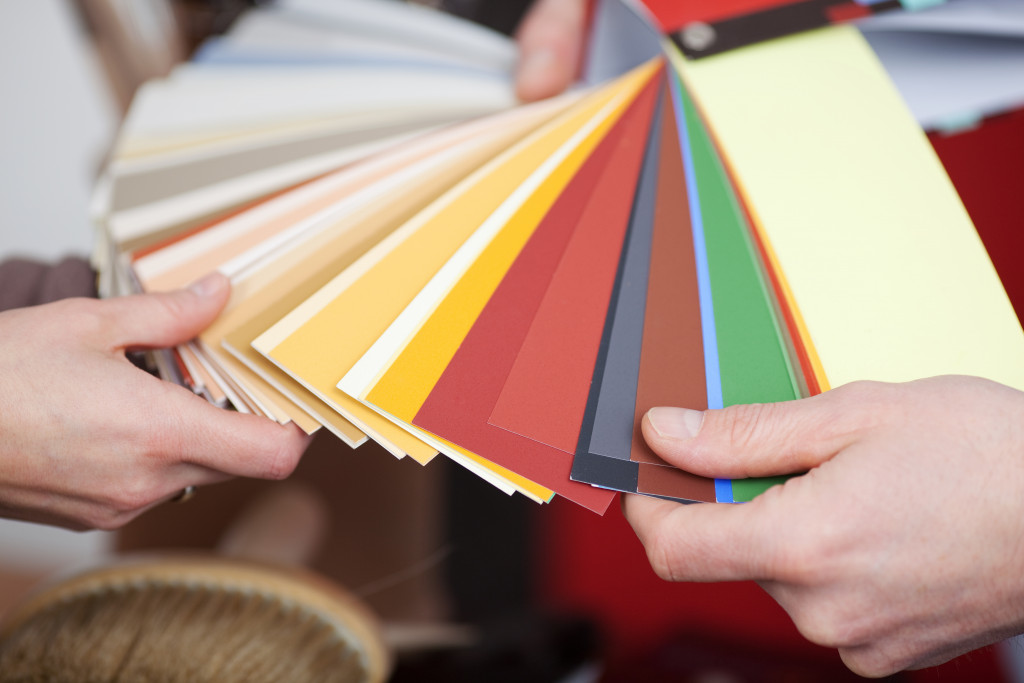 3. Think about the lighting and how it can affect the mood of a room
Lighting is one of the most important aspects of home design. It plays a role in how a room looks and affects the mood of a space. For example, custom solar shades can help to diffuse harsh sunlight and create a softer ambiance. Similarly, well-placed task lighting can make a workspace more inviting and reduce eye strain.
When designing a home interior, it is essential to think about how the lighting will impact the overall feel of the space. LED lights are a popular choice for home lighting because they are energy-efficient and long-lasting. You can also use dimmers to create different lighting effects depending on the time or the mood you want to set.
4. Use furniture that can serve multiple purposes
When choosing furniture for your home interior, it is essential to think about function and style. For example, an ottoman can be used as a coffee table, extra seating, or even a place to store blankets. Choosing pieces that can serve multiple purposes is a great way to save space and money.
In addition to being functional, your furniture should also be comfortable. After all, you want your home to be a haven where you can relax and unwind. When selecting furniture, take the time to sit in it and make sure it meets your comfort needs.
5. Don't be afraid to mix different styles – just make sure everything works well together
One of the most common mistakes people make when designing their home interior is sticking to one style. While it is essential to have a cohesive look, that doesn't mean all of your furnishings need to match. Mixing and matching different styles can add personality and interest to a space.
For example, you might pair a traditional sofa with a modern coffee table. Or, you could mix vintage and contemporary elements to create a unique look. Just make sure that everything works well together and fits the overall aesthetic of your home. Experiment with different combinations, and don't be afraid to step outside your comfort zone.
6. Add personal touches to make your home feel like your own
Lastly, don't forget to add personal touches to your home interior. This is what will make it feel like your own personal haven. Consider adding family photos, artwork, and other items that reflect your unique style.
Your home should reflect who you are, so don't be afraid to infuse it with your personality. By following these simple tips, you can create a stylish and functional home interior that is uniquely yours. If you need help getting started, consider working with a professional interior designer. They can help you bring your vision to life and make your home look its best.