Studies prove that sports like swimming are beneficial both for children and adults. Having your own pool in the backyard sounds nice. But children are vulnerable to accidents in the swimming pool. To take away your worries, make sure that your home pool is child-safe. If you plan to construct one, here is how you can do this.
Get professional help
Building a swimming pool in your backyard is not easy. It is not just digging around and creating a concrete box to fill with water. You will need to have a construction permit first. To do that, get a professional to design and plan the whole thing. The designing and planning phase includes water and electric systems.
Water systems must be carefully planned. You need to point where the water supply is coming from. Also, plan how to dispose of the water once it's time to replace it. Do you want to enjoy heated swimming pools? Do you have hot and chilled water storage tanks? What filter systems do you plan to use?
Of course, electrical systems are also planned in the pre-construction phase. It is often overlooked, but this should not be the case. We all know water and electricity don't really like being together. You wouldn't like it either. Grounding is essential to protect your family from potential faults in the electrical system. An electrician must do the wiring of your pool components.
Once the permit is approved, you may now start constructing your home pool. Once construction is done, immediately test the water, electric, and plumbing systems. If something fails, it is easier to fix it at this point.
Install pool safety equipment
There are three goals for installing pool safety equipment. One is to prevent children from having access to the pool. There are situations where you can't look after your children closely. Most of the time, barbecue parties happen in the backyard where the pool is.
You may be chatting with an old friend while your kid walks to the edge of the pool. Of course, nothing beats close supervision. But it wouldn't hurt to be sure. Another goal is knowing when someone or a pet accidentally went into the pool. Alarms are best to avoid such situations. Finally, safety equipment is installed to ensure easy rescue when an accident occurs.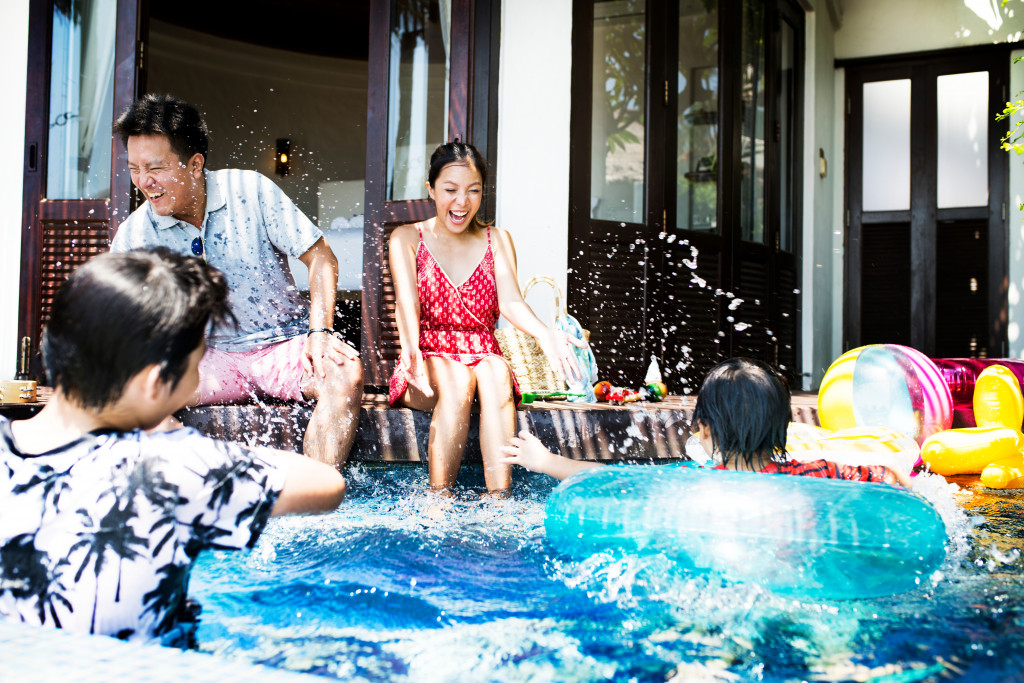 Pool fence
Fences are one of the most common ways to ensure a child doesn't have access to the pool. Pool fences should have a latch that children cannot reach. There is a type of pool fence that is removable. When it's an adult-only party, you can remove them. Make sure that kids cannot easily get over, under, or through your pool fence.
Pool safety net
Fences can sometimes ruin the view in your backyard. If you want to preserve that and still protect children, consider safety nets. The net's squares should be the right size. Children should not be able to fit through the squares. Nets have hooks and anchors attached to the deck to keep it in place.
Pool cover
A safety pool cover is different from winter and solar pool covers. There are two types of pool covers–mesh and solid. They are strapped to the pool deck. Mesh pool covers allow water and other debris to sift through it. This is ideal to put up during winter. It is also ideal for long-term use. Solid pool covers are not safe during the winter because they may not hold the weight of water or other debris.
Pool alarm
There are many types of pool alarms. You should use as many as possible to prevent accidents. Alarms notify you when a kid or a pet opens a gate or door and enters the pool perimeters. Gate alarms are battery-powered. When the gate opens, the electric field breaks. This is what triggers an alarm. Door alarms use the same principle. Typically, they are installed on doors that lead to the backyard or pool area.
Perimeter alarms use infrared beams. You should adjust them according to your child's height. When they enter the pool perimeter and break the light beam, the alarm will sound. Among pool alarms, this is the most expensive.
These are just some safety equipment that you can use to ensure your children's safety. Other devices include wave motion detectors and anti-entrapment equipment. Close parental supervision and vigilance are still the best ways to prevent an accident. Make sure you also know how to the first-aid in case any untoward incident happens. Teaching your children to swim will also prevent accidents of drowning.