From time to time, we all want to take a step back from our daily lives to catch a break. We all want to go on vacation to unwind and de-stress without worrying about anything in the great outdoors. Maybe a trip to the beach or a hike up the mountains, or even camping in the woods. But sometimes, the whole process of booking a flight or planning a road trip to those can also be quite stressful and not fun to do.
Thinking of everything you need to buy and bring, figuring out your lodging, and the added expenses could ruin the fun of what should be something that will help you relax. In that scenario, wouldn't it be nice if you could have a similar experience at home? Well, you actually can.
With a few changes to your backyard or any outdoor space on your property, you can create an exciting or calming vacation experience at home. Here's how to make it happen:
Start With A Plan
First, you must identify the purpose of your outdoor spaces. Will it be a space where you entertain guests or enjoy privately by yourself? Do you want a place to cook meals or dine al fresco? Would you like to add a pool, hot tub, or fire pit? Knowing how you want to use the space will help you determine the changes you need to make.
For instance, if your goal is to create an outdoor living room, you might consider adding weather-resistant furniture, string lights, and an outdoor rug. If you want to turn your backyard into a staycation oasis, you might add a pool, hot tub, and cozy lounge chairs. Whatever you intend the space to be, ensure you add the right furniture and features to maximize the effect of the experience you're trying to build.
Choose The Right Location
The second step is to choose the right location for your new outdoor space. If you have a large backyard, consider creating different areas for different activities. For example, you might have a seating area near the house, a dining area near the grill, and a lounging area around the pool.
You can still create a wonderful outdoor experience even if you have a small yard or live in an apartment with a balcony. It might just take a little more creativity. For instance, you might consider hanging plants or vertical gardens to save on floor space. Or, you can use foldable furniture to make the most of your limited space.
Know The Weather
The third step is to consider the weather in your area and how it will affect your outdoor experience. If you live somewhere with harsh winters, you might want to invest in a heated pool or hot tub to enjoy your backyard all year. If you live in a rainy climate, consider adding a pergola or covered patio so you can still enjoy time outdoors even when it's raining.
No matter the weather where you live, there are ways to adjust your outdoor space so you can enjoy it no matter the season.
Intentional Greenery
Nothing screams the outdoors more than plants and trees. And that's why landscaping is crucial to creating an outdoor experience at home. Not only will it make your space more visually appealing, but it can also provide much-needed shade, privacy, and insulation. And depending on what type of plants, trees, and grass you have, it can help emphasize the setting you're trying to recreate.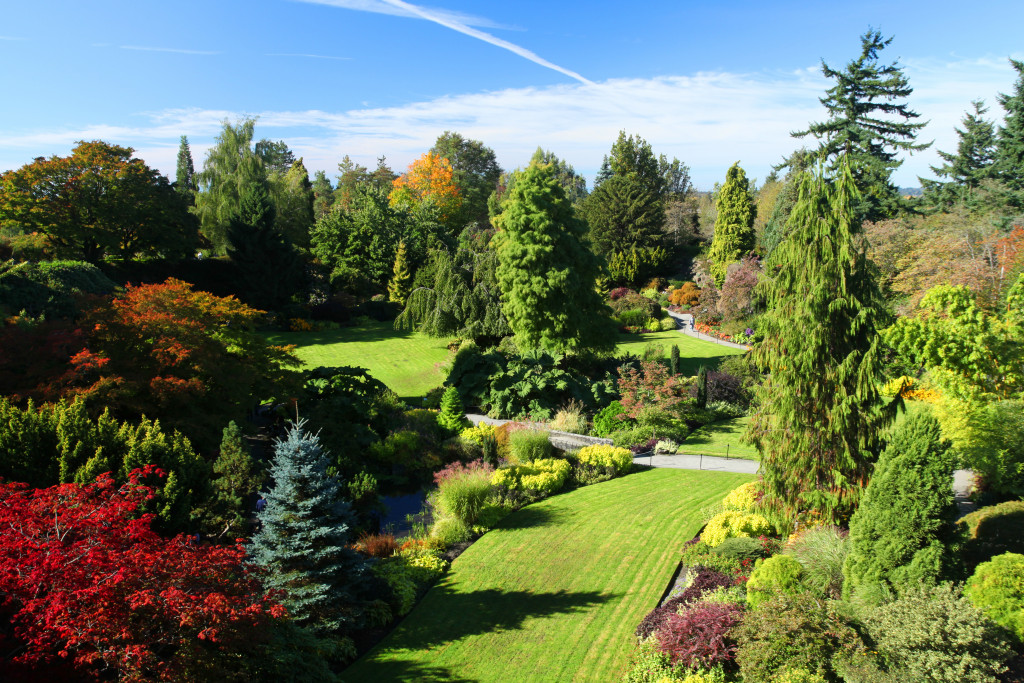 No matter what size your outdoor space is, landscaping will help create the perfect environment for your staycation goals and maximize its outdoor feel. Get creative and see how you can make the most out of it.
Outdoor Lighting
Another crucial element of setting the mood for your outdoor experience is lighting. Proper lighting can make the difference in how comfortable and inviting your space feels. Ambient lighting, such as string lights, lanterns, and solar-powered lights, can help set the tone for your space. And you can use task lighting, like spotlights and floodlights, to highlight specific areas or add safety and security to your outdoor space.
If you're tech-savvy, you can opt for smart lighting with RGB capabilities if you want the best of both worlds. With a few taps on their accompanying app, they'll allow you to go from warm to cool white light or any color you want so that you can set any mood.
Creating an outdoor experience at home can be as straightforward or intricate as you want it to be. Following these steps, you can create the perfect backyard oasis or an urban escape, no matter where you live. And with a little bit of creativity and landscaping know-how, you can make the most out of even the smallest outdoor space. So get outside and start enjoying your staycation today!