Knitted tea cozies, farmhouse vibes, and homey feelings – country living is more than just an interior trend. It's a timeless lifestyle for people who love the comfort and beauty of farmhouse spaces and rural living. But this combination of traditional furnishings and interiors can also blend with a contemporary look and bold designs, creating a mesmerizing modern country home.
This interior design celebrates the coziness of rustic styles and the charm of minimalism. If a modern country interior is something you'd love to create your own home, then you've come to the right place. Read on to find out how you can achieve a cozy modern country home.
Build your authentic kitchen
No doubt, a functional and authentic kitchen is an important element of a modern country home. Fill the space with nothing but functional areas, decorations, and appliances. For the kitchen cabinets, you can utilize shaker style or colonial square doors. Got a pantry? Install some beautiful sliding barn doors! And since we're talking about functional décor, opt for open shelving and display those precious pots and utensils for additional aesthetic. If you want to make the space look more authentic, add a butcher's block.
A modern farmhouse kitchen can also be achieved by creating stone or timber workspaces. Add elements of soft greys, muted greens, and off-white into your decors to complete the look. You can even add comfy wooden seats or old church pews for a beautiful breakfast nook where you can relax and drink your morning coffee.
Keep it neutral and light
A modern country home should be comfortable and relaxed. The look doesn't have to be perfect, but those edges should be softened. From fluffy creams to stunning whites, the space should scream neutrals. Such design makes decorating easy and gives the entire space a homey vibe. Choose airy, light colors for your decorations, furnishings, and other areas to achieve a bright, spacious look. You can also incorporate pale paint on your walls, whitewashed woods, and grey floorboards for a neutral, modern backdrop. To complete the look, showcase your timeless accessories and furniture pieces.
For a little pop, you can bring in soft furnishings in yellow or red shades. You can also incorporate varied textures and patterns using colors like dusty blues, mint, and washed sage. You can even add some floral patterns to add character into the space.
Use rustic and natural materials
In achieving a modern country interior, note that we are talking about lots and natural materials. Using such elements is perfect for showcasing an outdoorsy, organic aesthetic. Some great examples of the materials you can use are wooden floorboards, wood paneling, and exposed wooden beams. As for the furniture, it's always best to choose those made from weathered and worn wood. The floors? You can use natural stone or timber hardwood. Both materials will look amazing on entrances, kitchens, bathrooms, and mudrooms. For your bedrooms and living area, it's best to stick with aged timber floors for a much comfy feel.
Be creative with the reclaimed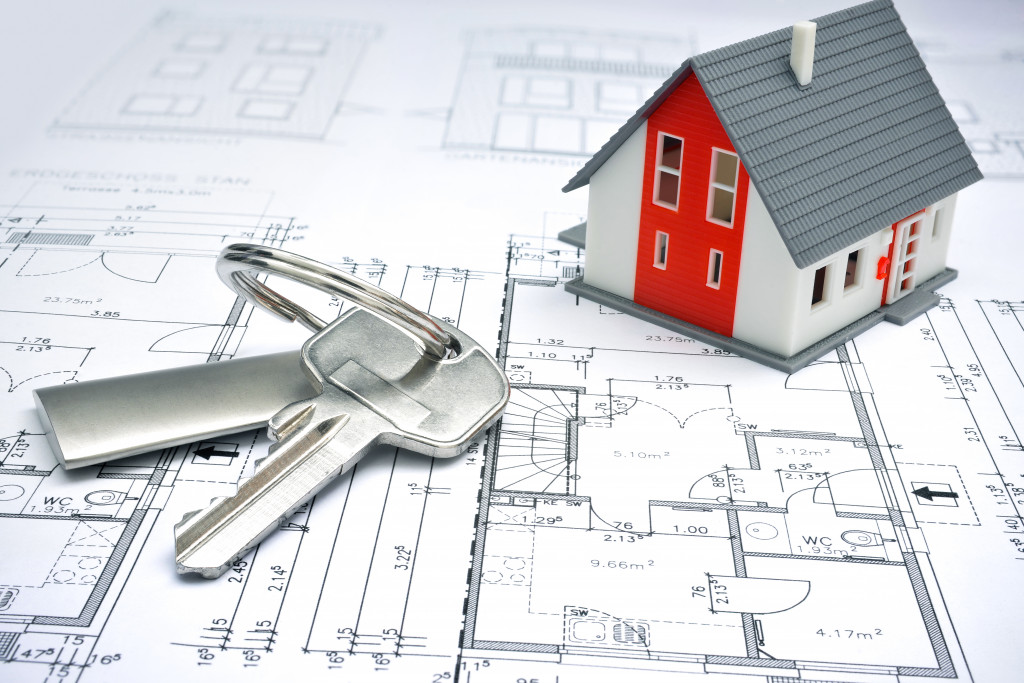 Don't miss the beauty of reclaimed materials stripped from barn conversions and rustic properties, and use them to decorate your space. The rawness of these natural materials can give your home a unique value. You can use reclaimed wood for your worktops and exposed brick or bare plaster for other areas, creating a hint of industrial design that works harmoniously with the modern country interior. If you're lucky enough to find reclaimed hardwood floorboards, keep those scratched in them as they are deemed to tell beautiful stories and make your home more meaningful.
Show off those textures
The texture is (almost) everything when it comes to a modern country interior style. The richness of natural patina, the organic and rough surfaces – the elements that make up the whole look. Gone are the days where you install wallpapers and paint the surfaces to cover the imperfections.
In this trend, we celebrate the edgy, unique look of natural materials and reveal the space's bones. For some soft textiles, you can play with wool and linen to add layers of visual interest. If you want to add warmth to your space, you can use hard textiles such as reclaimed wood to clad your walls.
Creating your own modern country living space can be done with so much ease. You get to play with textures and patterns and even bring in some fresh flowers inside your home. You can combine classic objects with modern décors. Achieving a modern country look is even made simpler with the tips above. If you love a welcoming and cozy vibe, this style is absolutely perfect for you!