Space is a requirement during this pandemic. Many people are making renovations to their homes to accommodate more and more family members. One particular renovation that people are seeking is an outdoor lounge.
There's nothing quite like spending a lazy summer day lounging in your backyard. Whether reading a book, soaking up some sun, or enjoying a cold beverage, an outdoor lounge is a perfect place to relax and unwind. If you're thinking of adding an outdoor lounge to your home, there are a few things you'll need to consider. Here are the five essentials of an outdoor lounge:
Comfortable Place To Sit
The first thing you'll need for your outdoor lounge is a comfortable place to sit. Here are some great options when finding the right furniture for sitting:
Hammock
Hammocks are made from fabric and can be hung from trees or posts. They're incredibly comfortable and perfect for lounging on a sunny day.
Outdoor Sofa
Outdoor sofas are perfect for those who want to lounge in style. They come in a variety of materials. Here are some of the best ones:
Mahogany: Known for its durability and resistance to rot, mahogany is a popular material for outdoor furniture.
Teak: Teak is another durable material that's perfect for outdoor use. It has a high oil content that makes it resistant to water damage and rot.
Wicker: Wicker is made from interwoven plants and is often used for indoor furniture. However, it can also be used outdoors.
Bean Bag Chair
Bean bag chairs are great for both kids and adults. They're perfect for lounging and can be easily moved around.
Yoga Balls
Lastly, yoga balls are a great option if you want to stay healthy but also want to lounge. They're perfect for light stretching or meditation while enjoying the outdoors.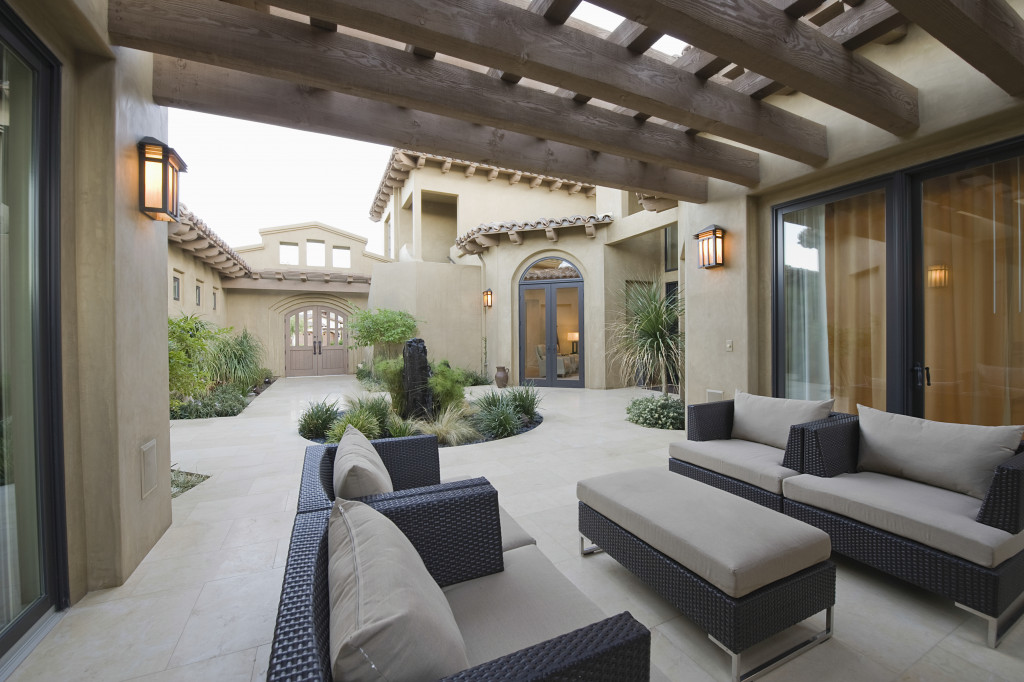 Plenty of Shade
Another essential for an outdoor lounge is shade. After all, there's no point in trying to relax outside if you're going to sweat buckets because there's no relief from the heat. Here are some great options:
Pergola
A pergola is a great option to add extra space to your outdoor lounge. It's a type of garden structure made from posts and beams. You can add curtains or plants to the beams for extra shade.
Umbrella
Another great option for providing shade is an umbrella. Umbrellas come in a variety of sizes and colors. They can be placed in the middle of a table or a chaise lounge.
Tarp
A tarp is a great way to create shade if you don't have any trees in your yard. You can hang it from a clothesline or fence. It's the cheapest option and one that you can do yourself.
Having some shade can ensure that you'll be able to enjoy your outdoor lounge for longer periods because you're not exposed to the heat of the sun.
Good Airflow
In addition to being shady, your outdoor lounge should also have good airflow. This will help keep you cool on hot days and prevent bugs from being attracted to your lounge area. If possible, try to position your outdoor lounge near a breeze or install a fan so you can enjoy the outdoors without being miserable.
Heating Options
If you live in a colder climate, you'll also need to consider heating options for your outdoor lounge. Here are some great options:
Fire Pit
A fire pit is a great way to stay warm on cooler evenings. They also add a beautiful ambiance to any outdoor space. There are plenty of affordable outdoor firepits you can purchase and install yourself. These fire pits are resilient and can handle any weather. They're great for camping out in your backyard too!
Outdoor Rug
Another great way to add warmth to your outdoor lounge is with an outdoor rug. Outdoor rugs are made from various materials, including wool and synthetic fibers. They can be placed under furniture or in the middle of the lounge area. Not only do they add warmth, but they also add comfort and style.
Privacy
An outdoor lounge is a perfect place to unwind and relax, so you'll want to ensure it's private enough that you don't have nosy neighbors constantly peeking over the fence at you. If possible, position your outdoor lounge, so it's not directly in your neighbors' homes. For extra privacy, you can also install privacy screens or plant bushes and trees around your lounge area.
With these five essentials in mind, creating an outdoor lounge area in your home will be a breeze! Follow these tips, and with just a little planning, you'll have an inviting and relaxing space perfect for summer lounging!