Anyone can quickly turn their home into a rustic retreat by adding farmhouse accents to their furnishings and putting a vintage flair to their walls. All you need is a few wooden slabs, your favorite DIY tools, and some creative ideas, and you're good to go. Check out these DIY concepts to help you add a rustic appeal to your home:
Repurpose Slabs into Signs
Set the vibe by greeting guests with a wooden welcome sign at the balcony, front door, or any entryway. Repurpose spare slabs into signs and decorate it to suit your taste. To amplify its rustic charm, retain the slab's shape and drop your stencils. The text will look more authentic if you write it freehand.
Alternatively, you can make a whimsical chalkboard out of fun forest finds. This way, you can customize your message to suit your mood and even use it on special occasions as a custom message board. This easy DIY project will take not more than 20 minutes of your time.
Create a DIY Barn Door
After the entryway trinkets, you can now move on to the actual door. DIY barn doors can add an instant farmhouse appeal to any space, so be sure to keep its look as close to actual barn doors as possible. For the supplies, you can either repurpose spare woods in your backyard or buy timber and accessories from door shops. Find stores in Melbourne that supply the high-quality timber, which makes for sturdy DIY wood-themed projects.
Make a Farmhouse Cabinet
Farmhouse cabinets can come costly, especially if you prefer the durable type. But since adding it to your bathroom or kitchen can give a faint feeling to your space, it's definitely worth the money. While you can easily find these types of cabinets at vintage shops or antique stores, you can build them on your own for one challenging but rewarding project.
Upcycle the Shutters and Turn Them into Benches
Got a set of discarded wooden shutters at home? Instead of throwing them away, you can upcycle them to create a one-of-a-kind DIY project. All you need to do is build bench legs out of a set of another discarded woods, put the blinds on top to add a rustic appeal, and then stain the entire output to match. The result is one beautiful bench that you can use at the balcony or backyard.
Build a Farmhouse Dining or Coffee Table
A rustic-themed house won't be complete without a farmhouse table. Whether you're after a table used for dining or display purposes only, you can easily bring a cozy feel right into any room by building a table out of wood slabs. Again, you can rummage through vintage shops to find the best dining or coffee table and then refurbish it to fit your theme.
Transform Wooden Logs into Flower Planters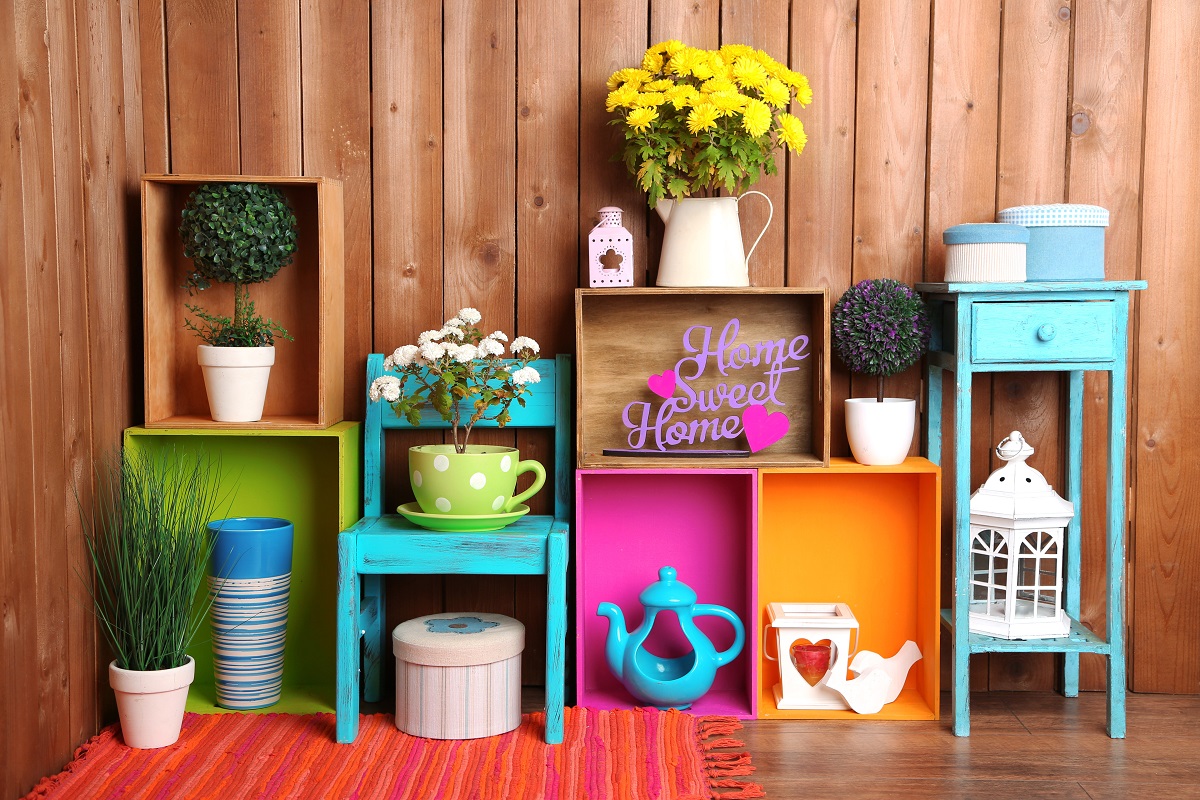 Up for some DIY projects that involve plants, flowers, and succulents? You can easily give your patio or porch a rustic accent by creating wooden planters. Get several pieces of cut wooden logs, carve out space for the soil, then fill it with your choice of foliage. You can also create more planters to add a farmhouse flair to your tables.
Add a Statement Deer Head Wall Art
If you check out any rustic home, you'll find that the one thing they have in common is wall art that features a deer head. You don't need an actual deer head for this DIY project. Get the creative juices flowing by creating a paper mâché and then painting the antlers and head to make it look real.
The rustic theme is a style that transcends decades, and it's not going anywhere. If you're after the antique aesthetic, get your tools ready, and start any of these fun and easy DIY projects.